Zofia Kulik was born in 1947 in Wrocław, Poland. She grew up and studied in Warsaw where she graduated from the Sculpture Department at the Academy of Fine Arts. Since 1971 she collaborated with Przemysław Kwiek as a duet called KwieKulik.
They practised together "actions" which encompassed the whole spectrum of artistic oeuvres such as process and ephemeral art. They proposed educational and institutional programmes and also documented artworks of other artists. In their home, they found the Studio of Activities, Documentation and Propagation (PDDiU). In the end of 1980s their shared life paths as well as their art collaboration came to the end and Kwiekulik stopped existing.
After that Zofia Kulik started to work individually and she oriented her practice to a different direction. "For now I am fascinated by the Closed Form, I want to be in the museum" – she explained. She started to create monumental, black and white photographic compositions based on multiple exposures of photo negatives from her vast archive.
The photo-collages took on varied form from photo-carpets, columns, gates, medals to open/endless compositions for example, the series "From Siberia to Cyberia". Especially these works brought Kulik huge success and popularity  (1996 Paszport Polityki, 1997 Biennial in Venice, 2007 documenta in Kassel). Kulik's works can be found in many collections, both in Poland and abroad (Art Museum in Łódź, National Museum in Poznań, Center Pompidou, Tate Modern, MoMA New York, Moderna Museet). Since 2008 she has been concentrated on her own practice and archiving of KwieKulik's body of work.
Solo exhibitions (selection):
2017 Badischer Kunstverein Atrium, Karlsruhe, DE
2016 Glasgow Sculpture Studios, Glasgow, UK
2014 Instead of sculpture – Sequences 1968-71, ŻAK | BRANICKA, Berlin, DE
2010 Activities with Dobromierz, ŻAK | BRANICKA, Berlin, DE
2009 Form is a Fact of Society, BWA Wroclaw, PL
2008 Splendour of Myself, ŻAK | BRANICKA, Berlin, DE
Dobromierz X(KwieKulik), Atlas Sztuki, Lodz, PL
2006 Made in GDR, USSR, Chechoslovakia and Poland, Le Guern Gallery, Warsaw, PL
2005 From Siberia to Cyberia, Museum Bochum, DE
From Siberia to Cyberia, Kunsthalle Rostock, DE
2004 Self-portraits and the Garden, Le Guern Gallery, Warsaw, PL
Archives of Gestures (1987-1991), Starmach Gallery, Krakow, PL
From Siberia to Cyberia 1998-2004, Zacheta National Gallery, Warsaw; Bunkier Sztuki, Krakow, PL
1998 The Human Motif IV, National Gallery, Prague, CZ
1997 Symbolic Weapon IV, Polish Pavilion, XLVII Biennale in Venice, IT
1996 The Human Motif III, ZONE Gallery, Newcastle upon Tyne, UK
1995 Still Man, Lombard-Freid Fine Arts, New York, US
1994 Der Riss im Raum, Martin-Gropius-Bau, Berlin, DE
1993 All the Missiles are One Missile, State Gallery of Art, Sopot, PL
1990 Idioms of The Soc-ages, Postmasters Gallery, New York, US
Group exhibitions (selection):
2018 Abstraction as an Open Experiment, Tallinn Art Hall, Tallin, EE
The Medea Insurrection. Radical women artist behind the Iron Curtain, Staatliche Kunstsammlungen Dresden/ Lipsiusbau, Dresden, D
Camera Austria, Museum der Moderne, Salzburg, A
2017 Half-Truth, National Museum Warsaw Królikarnia, Warsaw, PL
Black spring. On Wrocław's independent music scene of the 1980s, Wrocław Contemporary Museum, Wroclaw, PL
Art in Art, MOCAK, Kraków, PL
2016 Taste Of Photography Festival, As part of: European Month Of Photography, Bratislava, SLO
Shape of Time – Future of Nostalgia, National Museum of Contemporary Art (MNAC), Bucharest, ROU
Bittersweet times. Baroque and presence in the collection SØR Rusche Oelde/Berlin, Edwin
Scharff Museum Neu-Ulm, DE
Bread and Roses – The Strategies of Class Identification, Museum Sztuki Nowoczesnej,
Warsaw, PL
2015 …From the Depth…Artists from the collection of the Silesian Museum, Katowice, PL
War and Peace, Galeria Labirynt, Lublin, PL
Art According to Politics, Foundation Profile, Warsaw, Pl
Grammar of Freedom / Five Lessons – Works from the Arteast 2000+ Collection, Garage
Museum of Contemporary Art, Moscow, RU
2014 Feminine Futures, Le Consortium, Dijon, FR
Progress and Hygiene, Zacheta – National Gallery of Warsaw, PL
Wavelenghts (KwieKulik), Toronto International Film Festival, CA
Oskar Hansen – Open Form (KwieKulik), Museu d'Art Contemporani de Barcelona (MACBA), ES
Franz Graf. See what you sees you, 21er Haus, Vienna, AT
Everybody is Nobody for Somebody, Santander Foundation, Madrid, ES
Report on the Construction of a Spaceship Module, New Museum, New York, US
Decade of Revolt, Kulturhuset, Stockholm, SE
See what Sees you, 21er Haus, Vienna, AT
2013 Hold und mächtig? Das Bild der Mutter in den Kulturen der Welt. RELíGIO – Westfälisches
Museum für religiöse Kultur, Telgte, DE
The Desire for Freedom. Art in Europe since 1945, Palazzo Reale Milan, IT
The Splendour of Textiles, Zachęta National Gallery, Warsaw, PL
Better Homes, Sculpture Center, New York, US
BRITISH BRITISH POLISH POLISH: Art from Europe's Edges in the Long '90s and Today,
Centre for Contemporary Art, Ujazdowski Castle, Warsaw, PL
Subjects of Gender and Desire, BWA art gallery, Olsztyn, PL
2012 The Desire for Freedom. Art in Europe since 1945, German Historical Museum, Berlin, DE
After the Future, Biennial of Visual Art, eva International, curated by Annie Fletcher, IE
2011 PARTICOLARE – Paths of Democracy, Signum Foundation, Venice, IT
Identity Art Stations Foundation, Poznan, PL
Activities with Dobromierz, Tate Modern, London (Part of KINOTEKA Polish Film Festival), UK.
The Power of Fantasy. Modern and Contemporary Art from Poland, Palais des Beaux-Arts –
BOZAR, Brussels, BE
Museum of Parallel Narratives – In the frame of L'Internationale, MACBA, Barcelona, ES
A Complicated Relation: KwieKulik, Index, Stockholm, SE
2010 The Politics of Collecting – The Collecting of Politics, Van Abbemuseum, Eindhoven, NL
Early Years, KW Institute for Contemporary Art, Berlin, DE
2009 Target Practice: Painting Under Attack 1949-78, Seattle Art Museum, US
Awake and Dream, Signum Foundation, Venice, IT
Gender Check, MUMOK, Vienna, AT., Zachęta National Gallery, Warsaw, PL
11th International Istanbul Bienniali, Istanbul, TR
3xTAK (KwieKulik), Museum of Modern Art, Warsaw, PL
Messiahs, MODEM, Debrecen, HU
Menschenbilder 1620/2009, Museum Abtei Liesborn, Wadersloh, DE
6th Photography Biennale, Poznan, PL
2008 A Story Differently Told, CSW Laźnia, Gdańsk, PL
Souvenirs: Repressed Historical and Personal Memory, Ben Gurion University, Israel, IL
Cutting Realities: Gender Strategies in Art, The Austrian Cultural Forum, New York, US
Revolutions 1968, Zachęta National Gallery, Warsaw, PL
Schengen Women, Skuc Gallery, Ljubljana, SLO
Revolution, I LOVE YOU, International Project Space, Birmingham, UK, and Centre of
Contemporary Art, Thessaloniki, GR
Lichtspuren, Kunstmuseum Bochum, Bochum, DE
2007 1,2,3…Avant-gardes, Centre for Contemporary Art, Warsaw, PL; Sala Rekalde, Bilbao, ES
documenta 12, Kassel, DE
2006 Interrupted Histories, Museum of Modern Art, Ljubljana, SLO
Autopoesis, National Gallery, Bratislava, SK
Egocentric, Immoral, Outmoded, Zacheta National Gallery of Art, Warsaw, PL
Police, Bunkier Sztuki, Krakow, PL
Deep Light, Kunsthalle Wilhelmshaven, Wilhelmshaven, DE
2005 Warszawa – Moskwa, Zacheta Gallery of Art, Warsaw; The State Tretyakov Gallery, Moscow, RU
2004 E.U. Positive, Kunst aus dem Neuen Europa, Academy of Fine Arts, Berlin, DE
2003 Architecture of Gender, Sculpture Center, Long Island City, US
2000 2000+ ARTEAST COLLECTION, Moderna Galerija, Ljubljana, SLO
1999 After The Wall, Moderna Museet, Stockholm, SE
1996 New Histories, The Institute of Contemporary Art, Boston, US
1996 Pushing Image Paradigms, Portland Institute for Contemporary Art, Portland, US
1995 Obsessions: From Wundercamer to Cyberspace, Enschede, NL
1993 War, Neue Galerie am Landesmuseum Joanneum, Forum Stadtpark, Graz, AT
1991 Voices of Freedom: Polish Women Artists and the Avant-Garde, The National Museum of Women
In The Arts, Washington D.C.,US
Wanderlieder, Stedelijk Museum, Amsterdam, NL
Collections:
Centre Pompidou, Paris, FR
MoMA NY, New York, USA
Tate Modern, London, UK
National Museum, Krakow, PL
National Museum, Wroclaw, PL
Centre for Contemporary Art Ujazdowski Castle, Warsaw, PL
National Museum, Poznan, PL
Art Museum, Lodz, PL
Muzeum Okręgowe, Bydgoszcz, PL
The Upper Silesian Museum, Bytom, PL
Stedelijk Museum, Amsterdam, NL
Bochum Museum, Bochum, DE
DG Bank Frankfurt, DE
ING Nederlanden, NL-
Museum of Modern Art, Ljubljana, SLO
Hood Museum of Art., Hanover, US
Eric Franck Fine Arts, London, UK
Kulczyk Foundation, Poznan, PL
Signum Foundation, Poznan, PL
Moderna Museet, Stockholm, SE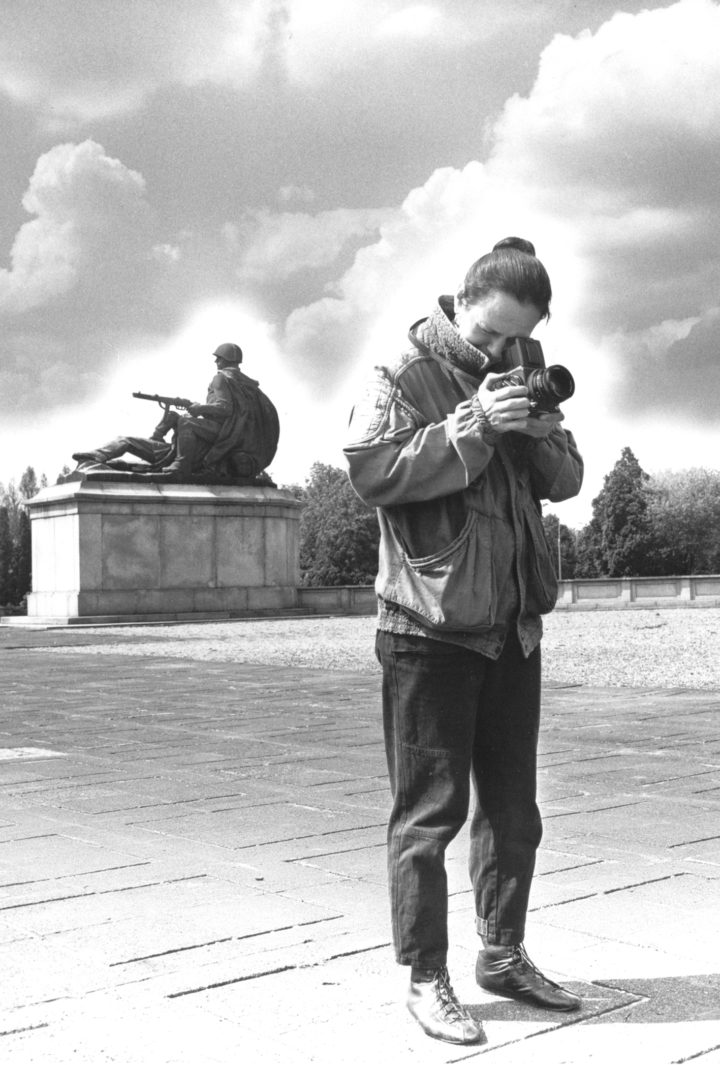 fot. Jerzy Truszkowski, 1992